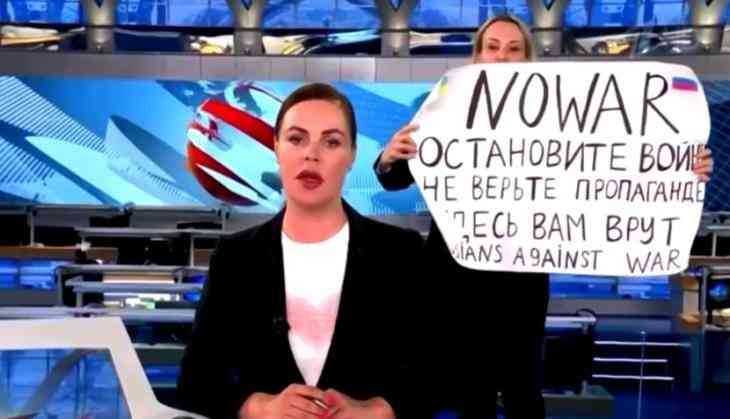 An anit-war dissenter intruded a live news broadcast on Russia's state TV Channel One on Monday, holding up a sign behind the studio anchor and shouting slogans criticising the war in Ukraine.
The sign read: "NO WAR. Stop the war. Don't believe propaganda. They are lying to you here." Another phrase, which looked like "Russians against war", was partly obscured.
Russian anti-war protester Marina Ovsyannikova interrupted a live news bulletin on Russia's state TV Channel One, holding up a sign behind a studio presenter and shouting slogans denouncing the war in Ukraine https://t.co/wxhwqx64zl pic.twitter.com/J8NeE4OB3y

— Reuters (@Reuters) March 15, 2022
The act of dissent happened on day 19 of the Russia-Ukraine conflict which started when Russia's President Vladimir Putin ordered the invasion of Ukraine on Feb 24 in what he termed a special military operation.
"Stop the war. No to war," the woman protester could be heard, as the anchor carried on to read from her teleprompter.
The woman dissenter could be seen and heard for several seconds before the channel switched to a different report to move her away from the screen.
Ukrainian President Volodymyr Zelenskiy thanked the protester during his video address.
"I am grateful to those Russians who do not stop trying to convey the truth. To those who fight disinformation and tell the truth, real facts to their friends and loved ones," Zelenskiy said. "And personally to the woman who entered the studio of Channel One with a poster against the war."
Kira Yarmysh, spokeswoman for incarcerated opposition leader Alexei Navalny, wrote on Twitter: "Wow, that girl is cool."
She also shared a clip of the incident, which quickly went viral and collected over 2.6 million views.
State TV is the main source of news for millions of Russians, and closely follows that Russia was forced to act in Ukraine to demilitarise and "denazify" the country, and to defend Russian-speakers there against "genocide". Ukraine and most of the world have condemned that as a false pretext for an invasion of a democratic nation.
Also Read: Russia-Ukraine war: Here's a look at some of the weapons being used in conflict